Hi, my name is Chris and I'm the owner of this website. I have been working and making money online since 2009. So, it's been actually 10 years now, at the moment of writing this.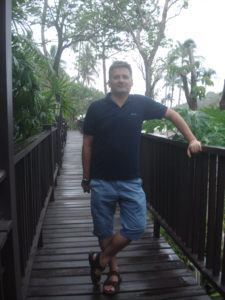 I won't write here any dramatic stories that you can usually find on such pages. You know, how I was very poor, and then I discovered some magical system that allowed me to make lots of money online and now I am super rich, and blah, blah, blah. And here would be a photo of me with my super car.
No, I won't be writing about anything like that and posting any bogus photos, because it would not be true. The purpose of this website is to present you the best methods of making money online and the methods that really work. I'll be also exposing here scams and methods that do not work. So, I am not going to write another story about from rags to riches, and how you can make money online easily, just working 1 or 2 hours a day from home, because it does not work like that.
To start your online business, you need some money, the same like with starting brick-and-mortar business. The difference is that you need much less money to start your business online. It's much cheaper and easier to start an online business than to start brick-and-mortar business.
In the beginning when you start your online business, you need to work hard. You need to dedicate some time to establish your business. If someone wants to sell you a program that will make you rich quick with very little work, then you better look for something else. Don't buy it. It won't work and you'll just waste your money. You won't find such offers here.
Before I started working online I used to be a teacher. I was making decent money (though much less than now), but I simply wasn't happy with my job. To be a teacher, someone must be dedicated to the job and love teaching kids, and I did not like my job.
So, I started looking for opportunities of making money online. I traded Forex, stocks and bought some get rich quick opportunities, but it did not work for me.
Luckily I met a marketer online who started teaching a small group of people how to make money online by selling some products online. I paid him $300 and he taught me about SEO, Google AdWords and other ways of getting traffic. I also learnt some basic HTML and created my first 3 websites.
To make the story short, I started making some money online. Unfortunately, I only learnt the basics, and I did not make enough money to have a lifestyle I wanted. But, thanks to the skills I learnt, I found a job working for the digital marketing company, enjoying my job and earning a good salary.
The good thing about my job was that I also was learning more and more about digital marketing. But, I still wasn't satisfied, just staying eight hours in the office and doing marketing for the big companies. I did not have the freedom I wanted.
Then I found Wealthy Affiliate, which changed my life. I learnt how to make money with affiliate marketing, which allows to make a lot of money (if you work hard on it in the beginning) and gives lots of freedom.
Unlike like working in the office for the big company I don't need to deal with clients who want quick results. I don't need to create and stock my own products. Affiliate marketing allows me to make money by writing about different products, telling people which products are good, and which are bad, and making money helping people to choose the best products.
I have been making money this way in a few different niches online. There are over 3 billion people online, and there will be more. There are unlimited money making opportunities online. Unfortunately, there are also lots of scams, and many people waste money, buying different bogus money making programs.
I am just an ordinary person who learnt how to do digital marketing and make money online. I know what works and what does not work online. The purpose of this website is to show you how to make money online, and to recommend you the websites/teachers/programs that do work, and expose the online scams and bogus programs.
You can find here the best online training that will help you to become rich and successful, but you will have to give it some time and effort.
I will be updating this website often, so please come back and leave some comments if you want to.