I have never been a fan of online betting, gambling, matched betting or sports arbitrage. I have known that it's possible to make some good money with it, but I thought that it's risky and hard to learn.
When I learned about Mike Cruikshank's Profit Maximiser Matched Betting System, I was surprised that people who made very good money with it, claimed that it's not hard at all. They said that Mike Cruikshank has made it easy for the members of his website, and that most of the people make profit in 3 days.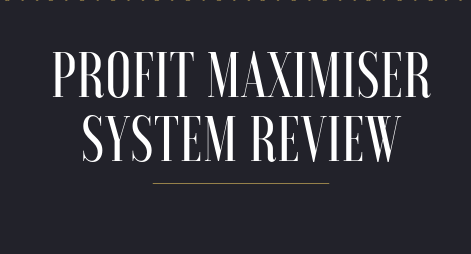 But I have also read some opinions that it's a scam. When I saw that it's possible to get a 2 week trial membership of the Profit Maximiser for just 1GBP (about 1.3 USD now), then I decided that I have nothing to lose and I must try it.
Apart from testing it, I wanted to write this review to definitely answer some of my readers' question – Is Profit Maximiser a scam or genuine service?
Mike Cruikshank's Profit Maximiser Matched Betting System Review
I have signed up for 14-day trial here. It cost 1GBP only, so I had not much to lose. On the landing page there was an option to either sign up for the 14-day trial and then pay GBP96 if I decide to continue, or buy it straight away for GBP97 with 30-day money back guarantee.
The Profit Maximiser is sold via Clickbank, so you can be certain that the trial period and money back guarantee will be fully respected. It's very easy to get money back or cancel the trial via Clickbank.
The Upsell
First thing, after I signed up and paid for the trial, I was offered an upsell. Although I hate upsells, which usually mean that what I just bought isn't the best thing and I need to pay more to get something better, this time it was different.
The upsell was Mike Cruikshank's software, which make managing betting, finding the best bookmakers, calculating the odds, etc., much easier. Mike made it clear that the software isn't necessary, but it makes things easier and faster.
The 30-day membership trial costs only 1GBP, so I decided to sign up for it too. I'm glad I did, because now I know it's really a time saver, and I love this software. It makes everything much easier and faster.
What's in the System?
The first thing I saw inside the membership website, was a Welcome Video and over 1 hour long bonus live training video. It's really good, so it gave me more trust in the system, when I saw how it works.
I also got an invitation to the Profit Maximiser's private Facebook page, which is only for the paid members of the system.
On that Facebook page I saw many people who make a full time income using only Profit Maximiser system. This answered all my doubts immediately – the Profit Maximiser is not a scam. It's a genuine system, that anyone can learn and apply. It really works, which I can attest after learning it and applying the training.
There's one problem – this isn't for everybody. Because of the restrictive gambling laws of some countries, the residents of some countries won't be able to use it. It's very easy for the people of the United Kingdom, but I don't think Americans can use it. Fortunately, there's the 14-day trial, so you can always unsubscribe when you see you can't do it.
Profit Maximiser Training
The first part of the system is training which is made of 5 short videos. There's much more training later, but watching these 5 videos is enough to learn the system and start making money. These videos cover some basic principles of Profit Maximiser.
I must say that the videos are great. Mike shows and explains everything clearly, so when the time came for me to do it myself, it was really easy. It's really like watching over Mike's shoulder.
Bookmaker New Account Offers
The next part is Bookmaker Offers. Here also Mike explains everything about it, and when you go to each specific offer, he explains everything again, and gives step-by-step instructions what to do.
The great thing about the offers is that you are certain to make money with them. When you sign up with the bookmakers you make money whether you win the bet or not. When you lose, you lose a little bit, and the money you get from the bookmaker for signing up is much more than what you lost.
After the money from the offer appears in your account, Mike shows you how to use it to make more money with matched betting. It's quite simple after watching the training videos and with the help of the software.
Spread Betting
After you've done all the new account bookmaker offers, you learn how spread betting works. I must add that both the Bookmaker Offers and Spread Betting are 100% risk free. If you do it exactly the way Mike teaches it, you will make money.
There's some misunderstanding that you might lose money with the spread betting. That might be true if you do it on your own, but you won't lose money if you follow Profit Maximiser System. Mike finds for you only the offers that will pay you some money for opening the accounts, and that are 100% risk free.
He also teaches later low risk offers, where you might lose some money, but you don't need to go to those offers if you don't want to. I haven't tried those offers yet.
Casino New Account Offers
Mike leads you step-by-step. So, next come casino new account offers. There's again training what to do, and you can go from one online casino to another, to make more money.
I must add, that when you go through this, you see how it works, how you make money, that the confidence is growing too. You see that it really does work.
Bingo Offers
The next come New Bingo Offers where Mike analyzes and explains how to cash out on each offer. The Bingo Offers are the fifth step of the system. After you have gone through all the 5 steps you'll have enough money to go to the Calendar, and make money every day, with the events listed there.
The Calendar
The offers in the calendar are divided into 3 groups:
Risk free
Low risk
High risk
You'll see the offers every day, so you can continue making money with the system, whenever you want to.
Advanced Training
There's much more in the Profit Maximiser System and there's the advanced training too. So, what you get is the complete arbitrage betting system with the software, that is suitable for beginners and advanced players. Mike's training and software, makes it easy and risk free.
The Pros of Profit Maximiser System
It does work
You can spend on it as much time as you want to, depending on how quickly you want to make money
Easy to learn
The training is great, with video tutorials
Bonus emails with more betting opportunities and instructions
Everyday betting offers
All bets are commission free
Great community support on the private Facebook page
Very good and helpful software available
12 day trial for 1GBP only
30 day money back guarantee
Zero risk to join
The Cons
Might not be suitable for residents of some countries
You must be careful when you bet, to avoid mistakes
You need some money to sign up for the new betting accounts
Testimonials
The results aren't typical
Summary
Although I have been an online marketer for years, and I must admit I used to look down on all kinds of betting as gambling, after trying Profit Maximiser, I must admit that it isn't really gambling, but pure math, and when done with discipline it works great, and it's actually quite easy to do.