If you want to know exactly what Affiliate Bots is, you're reading the right article, because I was asking exactly the same question a few days ago. So, to know, I decided to buy Affiliate Bots myself, test it and see how it works.
After doing that I'm ready to write the Affiliate Bots review.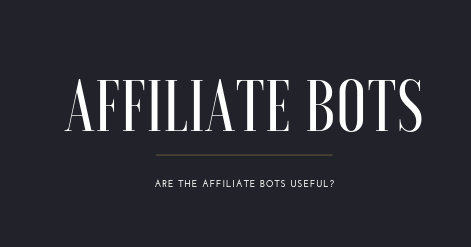 Affiliate Bots Comprehensive Review
The Affiliate Bots are different software tools that are specially designed for affiliate marketers who want to profit with video marketing and affiliate marketing in general. You'll also get some other useful software tools. They are designed and sold by Chris X, a well-known marketer. He became famous after selling his Day Job Killer course, that made him hundreds of thousands dollars. It was one of the best-sellers on Clickbank. It's still popular today.
Chris X made a lot of money selling software, selling his different marketing courses and affiliate products. There's no doubt that he is very good at marketing. But will his software be useful to you? Are the tools really good? How much they cost? Are there any upsells? Let me answer all those questions.
What Tools Will You Get?
Here are all the tools you'll get when you buy Affiliate Bots
1. Five Software Tools to Find Affiliate Programs
When you become an affiliate marketer, you need to find some good affiliate programs to promote. If the programs you promote aren't good or pay you very little commission, then you won't be successful at affiliate marketing.
Many programs, courses and things sold online are simply not good. If you promote them, you won't make much money, and you also lose your reputation if you promote rubbish. So, these first set of software tools is designed to help you find good and profitable affiliate programs to promote. They are:
CB 250 Software
This software finds for you the best products to promote on Clickbank. You can search for products by Alexa traffic, Gravity
and Commission. It's a very useful tool for affiliates who promote products from Clickbank.
King of the Zoo Software
This tool is similar to the previous one, but will let you find the best products and niches to promote from JV ZOO.
King of the Zone
This tool finds the best products on Amazon to promote. You can find the products on Amazon quickly, by category, price, and customer ratings. Very useful for Amazon Associates.
So, the first four software tools will find for you the products to promote. They are all useful and I'll be certainly using them often to find good products to review and recommend.
Launch Pulse
This tool is very good for experienced affiliates who make money specializing in internet marketing launches. They make a lot of money in a few days when new products are launched.
The tool lets you find the products that are about to be launched. The tool lets you search by product/person, price, prizes available and commission.
2. 1 Click Affiliate
This tool lets you create quickly sales copies. You simply enter some words in the software, like Niche, the Verb, Person, Benefits, Product, Failure, Result, Headache (problem to solve) and your affiliate link.
After you entered the words associated with the product you want to promote, you click on the "Get Affiliate Ideas" button, and you'll get your over 1,000 words sales copy ready.
I tested this tool, and I must say that it might be useful to some affiliates who have problems with writing sales letters, but the tool is far from perfect. I don't think there is any software that can create perfect sales letters.
The text must be edited and the errors connected, so the text will look presentable. After that, it actually reads well and the text became quite convincing sales letter. I ran it through Copyscape, and I found out that 50% of the sales letter were a duplicate content.
From my point of view the tool is useless from the SEO point of view, but according to Chris, the main purpose of the tool is to use it for quick video creation.
3. Rapid Video Creator
The text created by 1 Click Affiliate software, can be exported into the Rapid Video Creator, and then you can quickly create a video that can be uploaded to YouTube or Vimeo.
I tested the tool, and must say that it can be learned quickly how to use it and it's very easy to make some videos that are quite good. You don't need to use the text exported from the 1 Click Affiliate Software. You can enter your own text to make a video.
There are many options with this tool. You can use preloaded music or upload your own. You can use real human voice. There are many free online tools that let you change the text into voice, and you can upload it to your video too. This is especially useful for non-native speakers who have strong accents and don't want to use their own voice.
I find the Rapid Video Creator very useful. The software must be downloaded to your computer.
Together with the above described software tools come Quick Start Guide PDF in which Chris explains how to use the tools step-by-step for video marketing to promote affiliate products.
I think you must already have some idea about affiliate marketing to use all the tools. It's rather not for beginners to affiliate marketing.
4. Other Software Tools
There are many other software tools in Affiliate Bots. I'll describe them shortly below:
AI Traffic Search Engine
This tool is kind of money making search engine. It searches websites for money making opportunities, especially for traffic and niche opportunities.
1 Click Video Pages
This tool creates quickly squeeze pages and video pages that can be used to promote affiliate products and/or build your email list
Flip DB
This tool lets you find the best websites for sale on Flippa.com. The tool lets you also learn a lot about those websites; you can learn if they make money, if they are good for collecting leads, if they have their own advertising program, etc.
Affiliate Ads 2.0
This tool finds for your banners and creatives to promote Clickbank products.
Domainaveli Software
This is domain research tool, that will help you find good domain names.
Resell DB
Access to many resell products.
Dropaveli
This tool lets you find dropped domain names.
Web Widgets
This tool isolates and converts 1% – 10% of buyers from people who visit your website.
Warrior 50 Software
This tool finds all the launches on Warrior Plus affiliate network.
Now, when you know what is Affiliate Bots and what software tools will you get if you buy Affiliate Bots, you can decide if you need any of those tools or not. If you need any of these tools, then you could buy Affiliate Bots, because the price is really attractive.
By the way, all the tools come with videos which explain how to use the software tools
Affiliate Bots Price
Affiliate Bots cost only $17. This is the best about the Affiliate Bots – the price. It's really cheap, and I think just the Rapid Video Creator is worth this price. But, you'll get many more tools, and some of them might be useful too.
Upsells
When you decide to buy the Affiliate Bots, then the upsells start coming. I personally don't like upsells, because I usually learn from them that I did not get the best thing, but that there are better things, and I need to pay more to get them.
Affiliate marketers make money on upsells, but they might be annoying for buyers.
One of the reasons I love Wealthy Affiliate is that there are no upsells. There's only Free Membership and Paid Membership. You can get a lot from the Free Membership, but if you decide to upgrade to the Paid Membership, then you get everything, and there are no more upsells, no price increase either.
It's different with Affiliate Bots. I saw many upsells just after I bought the Affiliate Bots, and then got many of the emails from Chris.
To be honest, some of the upsells are quite good and you can test them for a week just for $1. So, you can get Affiliate Bots Pro membership for $1 first 7 days, and then $27 per month. There are a lot of interesting software tools in the Pro Affiliate Bots.
Another upsell that you can try for $1 is a Website Done for You. There have been many other upsells that I simply ignored. This article would be too long if I wanted to write about every upsell offered by Chris.
Summary
I think after reading this article you have a good idea what Affiliate Bots are, and if they are worth buying or not.
If you're a complete newbie to Affiliate Marketing they are not be for you. Although you'll get a few eBooks from Chris about affiliate marketing, video marketing, SEO and some other topics, I don't think that's enough to learn how to become a successful marketer.
To be honest, I don't think you can be profitable just using these software tools. They could be helpful, but they won't create a solid online business which is necessary nowadays to be successful online. I don't believe the strategies described by Chris will make you money.
The days of making money quickly online are gone. Now, you have to build an online business to make money online, and this takes time and effort. You won't learn it from Affiliate Bots.
The quick money is only made by people who sell make money quick programs and software. Although I think the Affiliate Bots software is worth the money, the money making system described by Chris X does not work anymore. If you really want to build a successful online business, you should better join the Wealthy Affiliate Community for free.